A revamped secondary school and higher education college in the Philippines has been recognised by judges at the World Architecture Festival. The CIIT Interweave Building in Quezon City was Highly Commended in the Completed Schools category.
In this article we take you on a tour around the world – sharing more details on the CIIT project along with the winning design and some of the other shortlisted buildings for students in the K-12 space showcased at this month's Festival.
From using unique building floorplans to ensure favourable lighting and temperature, to blending indoor and outdoor spaces to encourage outdoor learning and physical activity, there is plenty of inspiration to draw from the 2021 line-up.
Winner: Fortitude Valley State Secondary College (Australia)

Cox Architecture and ThomsonAdsett
Image: Christopher Frederick Jones (https://www.cfjphoto.com.au/)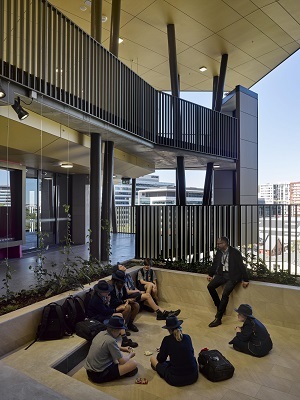 As the first vertical government school in the state of Queensland, Brisbane's Fortitude Valley State Secondary College (FVSSC) demonstrates how future schools can adapt to the increasing density of urban areas.
The brief was to develop general and specialised classrooms, performing arts and music spaces, and a sports centre, all with project-based learning in mind. Also key to the design of FVSSC was ensuring an abundance of green spaces, and to use the layout to facilitate connections with the community. The project team explain they utilised landscaping to blur the internal and external spaces at the school in order to encourage outdoor learning as well as promote overall student wellbeing.
Highly Commended: CIIT's Interweave Building (The Philippines)

Buensalido Architects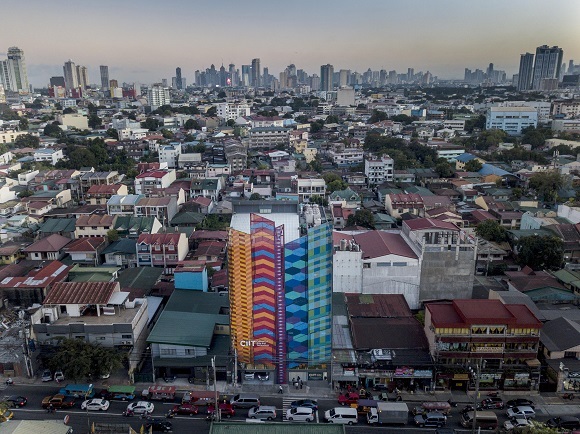 Image: Ed Simon
Over in the Phillipines, CIIT – a college for Arts and Technology which educates students in their last two years of secondary school and those enrolled in higher education courses – has repurposed an old four-storey building for a new campus. A sustainable refurbishment was a priority for the college.
The design team explain the perforated 'skin' exterior of the building protects it from the hot weather, while the design was inspired by school values and local identity.
'Three main ideas were juxtaposed in the façade to express the school's values: sustainability, technology, and the Filipino identity. The profile of the skin takes the form of a canopy that grows out from a central core like a tree, referencing sustainability. This is then broken down into smaller segments via patterns that echo a typical chipboard—an element that fuels technology.
'Finally, weaving patterns from Filipino tribes were abstracted into a vibrant, highly geometric network of shapes and colours that unmistakably exude the Filipino identity. The unique colours and patterns stand for the celebratory spirit and resilience Filipinos are known for.'
Inside the building, a gym is found on the top floor, and classrooms are on the levels underneath. A multipurpose space is on the second floor, along with an administrative area, staff lounges and student spaces.
Highlights from the 2021 shortlist
Ravenswood School for Girls Senior Learning Centre – BVN Architects (Australia)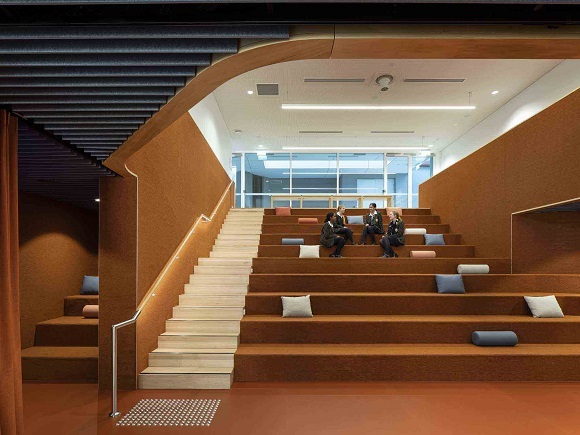 Image: Tom Ferguson
Ravenswood School for Girls in Sydney, New South Wales, offers a boarding facility for students, and the needs of these students have been considered in their new Senior Learning Centre. The project team say there was a deliberate effort to give the building a 'homely' feel, and to provide spaces for students to socialise and study out of school hours.
Each classroom has been designed to flow into nearby collaboration areas. All tables and chairs are also designed to be moved around easily to accommodate different teaching and learning needs. A large breakout and kitchen area were also incorporated to assist the senior students with becoming acquainted with a learning space similar to a university.
St. Mary's Calne School Library – Woods Bagot (United Kingdom)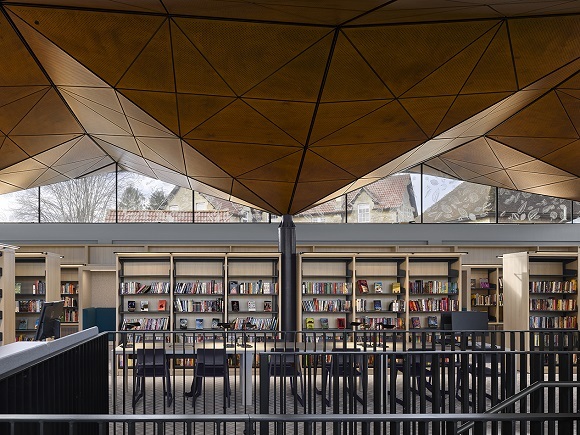 Image: Will Pryce and Woods Bagot
An Australian architecture company was behind the new two-storey library at St. Mary's Calne School in the United Kingdom. It was designed to be the new heart of the school, and, as such, staff and students were involved in the design decisions.
The ground floor encourages and facilitates group learning, while the second floor gives students the space for individual study. Shelving for books has been integrated into the walls to maximise space and natural lighting has been carefully considered to fill the space with daylight, but limit harsh direct sunlight.
Dongguan Kindergarten – GOA (Group of Architects) (China)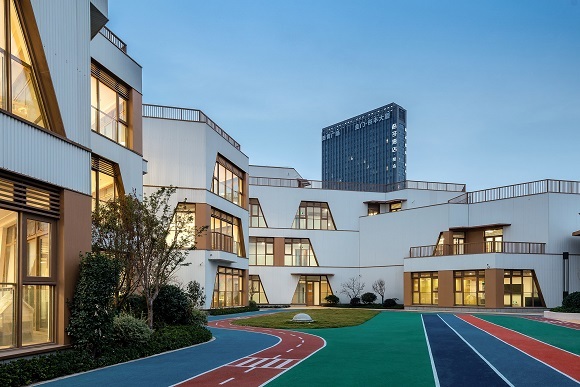 Image: GOA

Architects designing Dongguan Kindergarten in China needed to find a way to maximise space and access to natural light on a block of land surrounded by high-rise buildings. Their solution was to design a hexagonal building, which has been successful at maximising daylight. The unique shape has also provided unique spaces for the children to explore – including zigzag corridors and roof terraces at different heights.
Kindergarten of Museum Forest - Yunchao Xu/Atelier Apeiron/SZAD (China)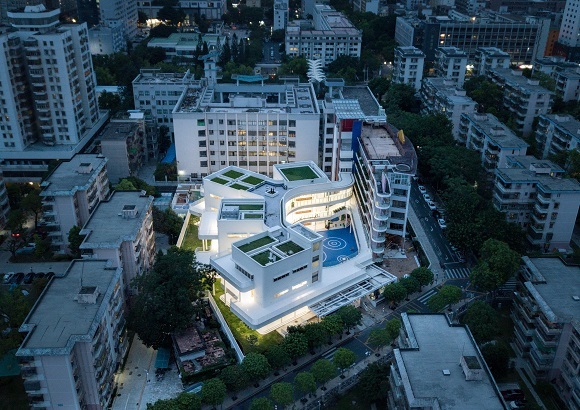 Image: Yunchao Xu
Staying in China, this kindergarten building was designed in separate blocks in order to reduce the noise from surrounding roads. Another advantage to the building's layout is the fact it emulates a maze, which gives students the opportunity to play in the space during the day when the building shape causes light and shade to change with the sunlight.
Kölängen Preschool – Sweco Architects AB (Sweden)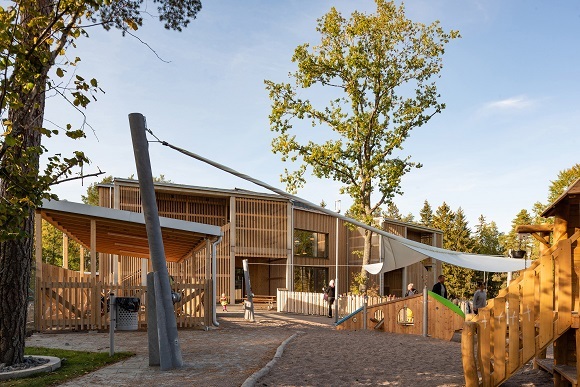 Image: Anders Bobert
Inspired by the Reggio Emilia education approach, this preschool in Sweden features open floor plans and an art studio, stage, and a food studio.
Constructing a sustainable building was a priority for this project; it is fitted with solar panels on the roof, and skylights to provide natural light. The shape and layout of the building was also carefully considered so windows can be positioned to achieve optimal daylight, and ensure a comfortable internal temperature.
Another important element for the preschool – which can accommodate 160 students – is that the indoor and outdoor learning areas are connected. This is achieved through large windows and wooden details throughout the building.
Thaden School: Reels Building – Marlon Blackwell Architects (United States)
The Reels Building. Image: Timothy Hursley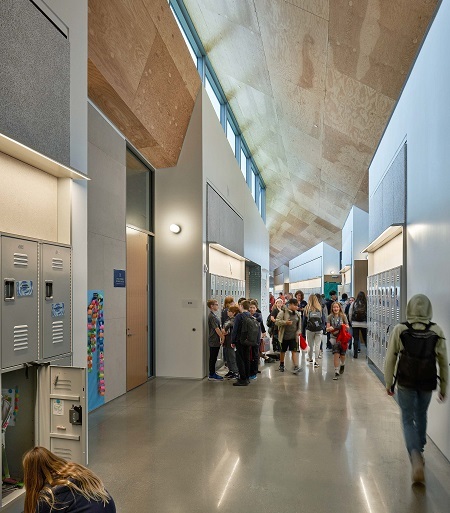 Thaden School is a middle school and high school which offers three signature programs: meals, wheels and reels. The meals program focuses on biology and chemistry through the growing and preparation of food, the wheels program focuses on physics and mechanics through the construction of bicycles, and the reels program focuses on visual communication and storytelling through film.
The Reels Building was shortlisted for the World Architecture Festival awards. It has a 'Y' shaped floorplan to maximise daylight and to provide three distinct learning areas, while also encouraging outdoor learning.
Thaden School Bike Barn - Marlon Blackwell Architects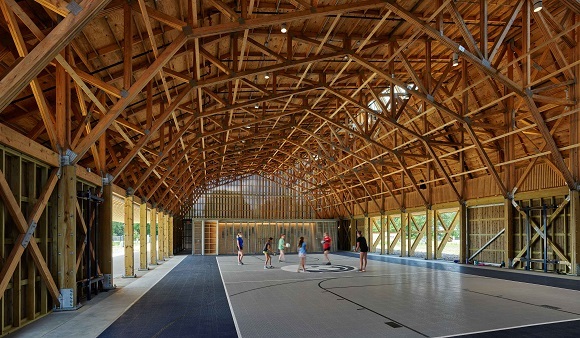 The Bike Barn. Image: Timothy Hursley
Thaden School's Bike Barn was also shortlisted. This multipurpose building is used for court sports, athletics and bike storage. It is naturally ventilated and features multiple rolling doors so the space can be opened up to outdoor spaces. To further connect the building to the outdoors, it has been integrated into the network of local trails that encourage students to cycle and get active.
St George's College, Weybridge – Scott Brownrigg architects (United Kingdom)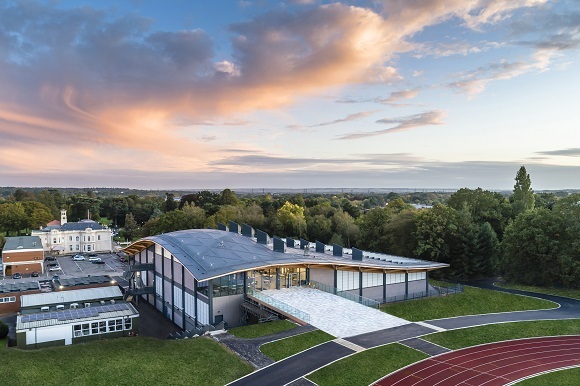 Image: Hundven-Clements Photography
To ensure this new activity centre blended in with its surroundings, a curved roof with a wave design was used, which reflects the sloped ground below. To also bring this connection to nature inside the centre, the wood was left exposed. The main sports hall inside features a floor which has fully programmable LED lighting to reflect all types of sport fields, like basketball and netball courts, as well as hockey and football fields.
United Lisbon International School – Elegant Group (Portugal)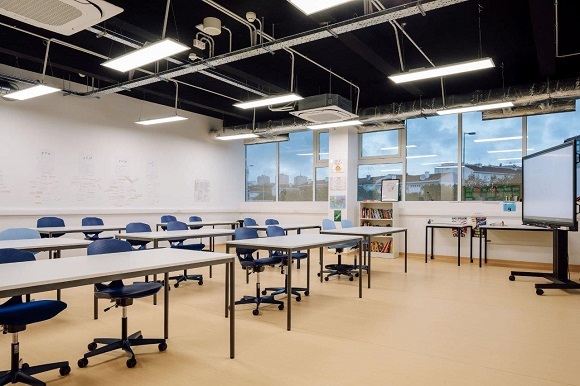 Image: Elegant Group
To build a new campus for United Lisbon International School, architects needed to work within the façade of an existing building to create classrooms, a sports arena, offices and a multipurpose hall. The new elements were deliberately blended with what already existed – this was achieved, for example, through exposed ceilings.